U.S. Industry Sector Advisory Committee on Small and Minority Business
for Trade Policy Matters (ISAC No. 14)




The following information was assembled on the U.S. Trade and Development Agency (TDA) for the benefit of ISAC members and the U.S. business community. For further information please visit the TDA home page at: http://www.tda.gov/


---

U.S. TRADE AND DEVELOPMENT AGENCY



I. Mission Statement

The U.S. Trade and Development Agency (TDA) assists in the creation of jobs for Americans by helping U.S. companies pursue overseas business opportunities. By funding feasibility studies and related support activities, TDA directly assists American firms with market entry efforts through early involvement in the planning stage of infrastructure and industrial projects in the difficult to penetrate middle-income and developing countries.


II. International Funding Activities

A. Description

TDA provides funding for feasibility studies, definitional missions and desk studies, orientation visits, trade-related training, conferences, and symposia that support U.S. business participation in specific overseas projects.

Feasibility Studies are TDA's primary funding activity. They evaluate the technical, economic, and financial aspects of a proposed public or private sector project. The average TDA grant for feasibility studies is $320,000. The costs associated with feasibility studies for private investor projects are shared between TDA and the U.S. firm developing the project. While public sector project studies can be fully funded by TDA, certain projects may also require cost sharing.

Definitional Missions or Desk Studies almost always precede the feasibility study. These efforts entail a quick review of the proposed project, either in the host country or the U.S., to better define its scope and the terms of reference to be used in undertaking the feasibility study. TDA contracts with small and minority owned U.S. businesses for these reviews.

Other Support Activities are funded by TDA to assist in positioning U.S. goods and/or services as the option of choice by the host country if the development project goes forward. These activities include:

-Orientation Visits to familiarize foreign officials with U.S. capabilities to meet their project needs;

-Trade-Related Training and Technical Assistance to provide foreign officials with direct exposure to U.S. technological capabilities or to assist in overcoming technical issues associated with the development project in question;

-Conferences and Symposia are undertaken to bring together foreign and U.S. business leaders to better familiarize them on the available business opportunities that can best be met with U.S. goods or services.

-Projects under consideration by Multilateral Development Banks (e.g. The World Bank) have utilized TDA funds to support U.S. private sector consultants' participation in the design works and thus open the door for other U.S. firms to participate in the follow-on implementation works.

Note: In addition, TDA maintains a comprehensive library of all completed feasibility and sector studies for reference by U.S. firms interested in doing business in a particular country or sector. Copies of these studies are also available through the National Technical Information Service.

B. Eligibility Criteria for Development Projects

In order for a foreign development project to be eligible for TDA support, it must meet the following four basic criteria:

1. The project in question must be a development priority of the "host" country as evidenced by a formal request to TDA from that country and must be endorsed by the local U.S. Embassy;

2. The project must demonstrate an export potential for U.S. goods and services that is many times greater than the cost of the TDA assistance;

3. It must be demonstrated that follow-on financing would be available to implement the project and that the procurement process would be open to U.S. firms to supply their goods or services;

4. The project must present a situation in which it is likely that U.S. companies will face strong competition from foreign companies that receive subsidies and other support from their governments.

C. Key TDA Contacts for Accessing Support

The Trade and Development Agency is run with a small staff of 38 personnel. It is divided by geographic regions of the World with a Regional Director and staff assigned to each. To learn more about the TDA programs and available data, U.S. businesses should contact one or more of the following Regional Directors at the TDA phone number (703) 875-4357 or Fax number (703) 875-4009:


Africa & Middle East
East Asia & Pacific Islands
Central, Eastern & Southern Europe
Latin America and the Caribbean
New Independent States,
South Asia & Mongolia

TDA can be reached at the following addresses:


Mailing Address
Room 309, SA-16
Washington, D.C.
20523-1602

Delivery Address
1621 North Kent Street
Suite 309
Arlington, VA 22209



III. Funding and Level of Company Participation

A. Allocation of Funds for Fiscal Years 1993 Through 1996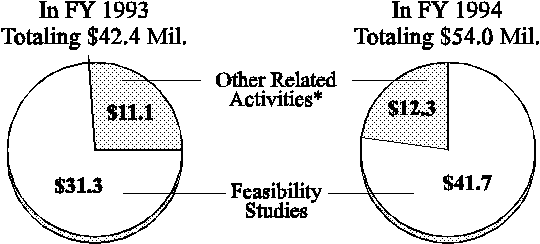 *Other TDA related activities include: Orientation Visits ($2.4Mil. in FY 1993 and $2.3Mil. in FY 1994); Technical Assistance ($2.9 and $3.7); Trade-Related Training ($2.1 and $2.4); Multilateral Development Bank Grants ($1.1 and $0.6); Technical Symposia ($1.5 and $1.0); and Definitional Missions ($1.1 and $1.2).

For the current operating Fiscal Year 1995, TDA was provided a total of $65 million, which includes $45 million for overall programs, $17 million for the Newly Independent States (NIS) of the former Soviet Union, and $3 million for Eastern Europe. For Fiscal Year 1996, requested funding is $67 million: $50 million for overall programs and $17 million for the NIS. Allocations of funds between Feasibility Studies and Other Activities is determined by project demands.

B. Geographic Distribution of Participants

From the start of the program in Fiscal Year 1981 until mid January 1995, TDA has provided $218.0 million for 854 feasibility studies. In direct support of those efforts, it also provided $78.7 million for 1,655 other related activities. TDA has recently assessed the impact of the key components of its program on small and minority-owned U.S. companies. They found that more than half of all TDA-funded activities are carried out by small and minority-owned businesses, who receive approximately 25 percent of all disbursements of TDA funds. The geographic distribution of these amounts and activities are shown on the attached two maps of the U.S.

It is TDA's policy that only small or minority-owned U.S. companies (less than $3.5 million gross revenue by the Small Business Administration standard or 8(a) firms) may compete for definitional mission contracts.

Small or minority-owned U.S. businesses are encouraged to register in the TDA data base and to bid on Definitional Mission work as well as to pursue subcontracting opportunities on newly approved feasibility studies announced in the TDA newsletters. TDA has found that small U.S. companies have participated as prime contractor or joint venture partner in over 17% of TDA-funded feasibility studies.

A small Pennsylvania family owned firm, for example, was subcontracted under a TDA-funded feasibility study to review the modernization options for Poland's thermal power plants. The study found that Poland could achieve considerable savings with only a small investment in the increased efficient use of electricity. The study opened a new market for this small business that manufactures tools to clean power plant tubing and it has realized sales to Poland of over $500,000.



IV. Outreach Efforts

A. Current Efforts

In addition to the outreach efforts already noted, TDA undertakes the following activities to provide information to new U.S. businesses that would like to participate in its programs:

-Requests for Proposals (RFP) to conduct feasibility studies are published in the Commerce Business Daily;

-Information on definitional mission (DM) opportunities reserved for small or minority-owned businesses are obtainable by calling TDA's DM Hotline at (703) 875-7447;

-Small and minority U.S. firms who wish to be included in TDA's consultant database for future DM solicitations should contact Ms. Della Glenn in the Contracts Office.

-Two newsletters that are available by subscription, TDA Bi-Weekly and TDA Early Bird, provide U.S. suppliers with information on TDA supported projects, including RFPs for feasibility studies;

-TDA publishes its Update that contains current items of interest on a quarterly basis;

-Regional "Fact Sheets" that summarize TDA activities by sector are also available.

The library, located at the Agency's offices, maintains final reports on all TDA activities: feasibility studies, definitional missions, desk studies, technical symposia, orientation visits, trade-related training, and technical assistance. Final reports are available for public review Monday through Friday from 8:30 a.m.-5:30 p.m. Copies of completed feasibility studies must be purchased through the Department of Commerce's National Technical Information Services.

B. Planned Areas for Emphasis

TDA plans to continue its traditional range of outreach activities with an eye toward making them even more productive. TDA funded feasibility studies contain detailed project/market information, and the Agency plans to host more business conferences in the U.S. to share the results of these studies with American companies. TDA also plans to increase the sponsorship of visits to the U.S. by delegations of foreign officials. These efforts have been successful in providing U.S. companies the opportunity to market their goods and services for specific projects to the people who will be making the procurement decisions.

The Agency also plans to expand its outreach efforts noted above to make more companies, especially small and minority-owned firms, aware of its programs and how best to participate.